Knowledgebase
How do I find my Amazon Key, Secret Key and Tracking ID?
Posted by Nihad Mustafic on 05 May 2012 09:11 PM
Step 1. Visit https://affiliate-program.amazon.com/ and login with your amazon associates account.
Step 2. Once logged into your account you will see a button "Product Advertising API". Click on that button.
Step 3. After clicking on the Product Adverting API, scroll down to Manage My Account (If it asks you to login, use your amazon associates email and password.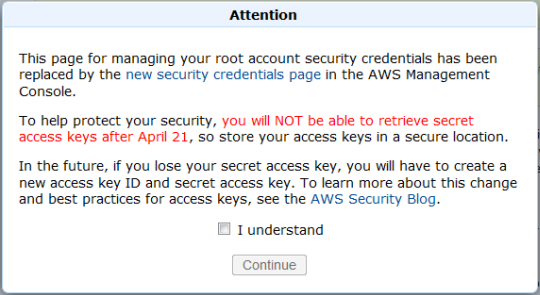 UPDATE 2014 - WHEN YOU CLICKED ON THE LINK "Click Here to", you should get the above popup about the Amazon Keys. Please read it carefully.
The bottom image page you see will soon expire on Amazon. The New Link to Manage Your Keys is https://console.aws.amazon.com/iam/home?#security_credential . Click on Access Keys. It should look familair, you should see your Amazon Access Key ID.
Important Change - Managing Your AWS Secret Access Keys
Step 5. On this page you will see your Amazon Key and a link to click on to display the Amazon Secret Key.
If you also need help finding the tracking id, then go back to https://affiliate-program.amazon.com/ and click on Account Settings.
Then click on "Manage Your Tracking IDs".
Last step is to create a new tracking id for the store you are working on. We always recommend creating a unique tracking id for each store to make it easier for tracking that store.
---